Workshops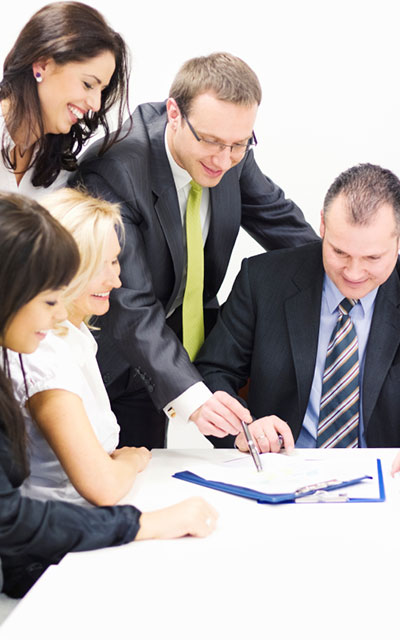 For your convenience, the following outlines some of the popular workshops that are available through Leverage Point Learning.
Interested in a shorter version or a topic that isn't listed here? Many of our workshops can be adjusted to focus on crucial skills in shorter timeframes. We also have the expertise to custom design and develop workshops on a variety of other topics. Contact us to discuss options that fit your needs.
Accountability in the Workplace
Someone was going to do it; everybody agreed we should do it; nobody did it. Accountability is everybody's business and at some point we are all "someone", "everybody" or "nobody". This session explores the concept of personal accountability, the power of "shoulds", and ways to clarify commitments and hold others accountable. As a result of this session, you can expect to be able to:
Define accountability
Identify your sphere of influence and control
Describe ways to avoid the "blame game"
Communicate roles, responsibilities and expectations
Hold others accountable, both with and without formal authority
Building Resiliency through Change
During times of change, our stress can increase, while our coping skills are put to the test. Building resiliency focuses on developing an understanding of what happens during a change and offers new ways of coping and creating resiliency through the process. During this workshop you'll learn to:
Define the stages of change
Identify common reactions and ways of dealing with change
Determine techniques for minimizing negative effects of change
Create a personal plan for building resiliency through change
Leading Successful Change
Change is one of the most common occurrences in today's workplaces, with changes happening at an almost unprecedented rate. Focused on technology implementations or upgrades, process improvements and a host of other outcomes, organizations have nearly perfected the project implementation side of change but still struggle with the human element. This seminar focuses on ways of successfully dealing with the people side of change, offering ideas and techniques to engage and influence all levels of employees. This session provides change leaders with the skills to:
Define the components of successful change
Plan and implement successful change initiatives
Apply techniques that minimize the negative effects of change
Identify sources of resistance and methods to overcome it
Reinforce new behaviours and processes
Engaging Employees through Performance & Career Conversations
Performance discussions focused on assessing annual goal-achievement and the setting of new goals is a common foundation of most organizations' performance management programs. Current research suggests that the most valuable component of these conversations is often missing; a conversation about employees' career objectives and ways to achieve these. Especially critical for younger generations of employees, meaningful career conversations may be the difference between engagement and disengagement for many employees. Following this workshop, you'll be able to:
Define the phases of the career and performance discussion
Identify the employee's and leader's role in career planning
Discuss the key elements needed for a meaningful career conversations
Create a personal action plan
Great Customer Relationships
Customer service staff play a critical role in building long-lasting relationships with customers. Whether it's face to face, on the phone, or via e-mail, dealing with internal or external customers, every interaction can make or break that relationship. Having a great product or service is no longer enough. Today's customers expect outstanding service, and providing outstanding service can give your business a competitive edge. In this highly interactive seminar, you will focus on many important aspects of customer service, and will have the opportunity to practice and refine your skills. Need a refresher on this topic? Looking to enhance your team's current customer service skills or help leaders coach your service professionals? Contact us to discuss available options.
Networking for Impact
Have you ever found yourself scrambling for a business card? Does the idea of talking with people you've never met send you running from the room? Have you ever wondered why some people seem so at ease introducing themselves, their organization and what they do? Join us for an interactive opportunity to learn from past experiences, share stories of false starts, clammy hands and awkward conversation. In this fast-paced and entertaining session, we'll focus on positive strategies for those who are networking-challenged and guide them towards connecting for personal and professional success. Topics included in this workshop:
Defining networking
Networking in person and online
Tools of effective networking
Methods of building and maintaining your network
Individual action planning
Strategic Leadership
The ability to lead strategically has been described as one part art and one part science. It is a skill that can distinguish leaders as being truly outstanding, and has the ability to transform organizations from average to exceptional. For those seeking to take their leadership to the next level, this one-day seminar focuses on the role of strategic leadership in today's complex business environments and provides leaders with the tools needed to move from managing issues to leading for the future. Following this workshop, you will be able to:
Define strategic leadership and explain its impact on organizational success
Articulate the mission and values of your organization and link these to your department or team goals
Identify factors that are crucial to the achievement of corporate goals, such as organizational culture, structure and processes
Make operational decisions that are in alignment with long-term strategy and corporate objectives
Winning the War for Talent: Recruiting the Best
In today's competitive market it is becoming increasingly challenging to find and secure top quality employees, and the poor hiring decisions cost companies valuable time, money and productivity. This one-day course provides employers and those in a hiring role with critical skills needed to select and secure the best candidate every time. After attending this workshop, you'll be able to:
Describe the steps involved the recruitment process
Screen resumes
Conduct an effective interview and create appropriate questions
Complete reference checks
Negotiate a job offer
Select the best candidate for the job
Strategies for Engaging Top Talent
Employee engagement and retention are the newest buzzwords on everyone's minds, but what do they really mean? Leaders and human resource professionals today are in the unique position of motivating employees to give their best and building employee loyalty in a booming economy, where the motto is "do more with less". This seminar is about the hidden, hard-to-identify reasons that employees disengage and eventually leave and organization. Join us to learn about the 10 myths of employee engagement and inspire new levels of commitment and performance, now and into the future. You can expect to:
Learn what employee engagement is, what factors impact it and how to detect whether your organization is at risk.
Be able to build the business case for employee engagement and retention strategies.
Measure the effectiveness of various engagement strategies.
Learn what top employers do differently.
What's Your Type?
Using the Myers-Briggs Type Indicator, we'll explore yours and others' personal preferences around communication, decision-making and more. During this interactive workshop you'll learn:
Your personal preferences and how these can influence behaviour
The unique gifts inherent to your Myers-Briggs type
How the facets of each type impact areas such as communication styles, decision-making, problem solving, managing change, and dealing with conflict
Ways to leverage your strengths to enhance personal and team effectiveness
The Leader's Path
Leaders today are faced with a multitude of challenges including ongoing change, shifting employee expectations, and the need to do more with less. The Leader's Path is focused on providing real-life skills to deal with this reality. Whether you are new to a leadership role, or a seasoned veteran looking for ways to sharpen existing skills, The Leader's Path can help you reach your leadership objectives.
The Leader's Path is a modular program, designed to fit with a leader's busy schedule, and modules vary in length from 0.5 days to 1.5 days. Each module presents new information, progressively building essential skills to succeed at today's leadership challenges.Potential topic areas include:
• Leadership Styles
– explores popular leadership theory and encourages participants to develop and refine their personal style.
• Building Understanding through Myers-Briggs
– using the MBTI assessment, this module assists leaders in understanding their personal preferences and impacts on others.
• Art of Feedback
– this module focuses on the critical role of feedback in others' development and growth, providing a simple model for delivering good feedback.
• Navigating Touch Conversations
– providing leaders with skills to have conversations beyond coaching and feedback, this module focuses on providing techniques to tackle "undiscussables".
• Coaching for Success
– while a part of many leaders' roles, few agree that they spend sufficient time on this critical responsibility. This module discusses situations when coaching is appropriate and introduces a coaching model grounded in asking great questions.
• Leading through Change
– many say that they are unprepared to deal with the constant change in today's workplaces. This module explores the various types and phases or change and offer techniques to both implement effective change and build resiliency through the process.
• Leveraging Generational Differences
– for the first time in North America, there are four unique generational groups working side by side, creating both confusion and opportunity. This module explores the influences and expectations of each generation and offers all employees ideas around leveraging the unique gifts and talents of each group.
At Leverage Point Learning, we believe in working with you to create a program that is relevant, enjoyable, and fits with the culture and leadership philosophy of your organization. For this reason, existing materials modules can be customized or new modules can be created and added to enhance the program.
To get more information about The Leader's Path, please contact Dasa Chadwick at Leverage Point Learning.